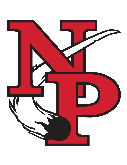 After having the opportunity to go to the Iowa High School Press Association day at the University of Iowa, I was able to get the perspective of other schools and their doings in journalism programs. One idea that stood out to me was the idea of a literary magazine. 
While this may differ from other schools, our idea for a literary magazine at North Polk High School will be displaying students' works of art through their volunteering. These works of art can include but are not limited to paintings, drawings, sculptures, poems and short stories. 
Furthermore, the artist is encouraged to write a short artist statement explaining their work of art and/or what inspired them. 
The works compiled will be uploaded two times per semester and one person can send in as many works as they wish recognized.
The newspaper encourages students who wish to exhibit their work through this source and be able to be proud of their accomplishment. Furthermore, this can be a way of students to get to know one another on a deeper level.
One can email these works to [email protected] along with the optional artist statement.