Huether Keeps Us Moving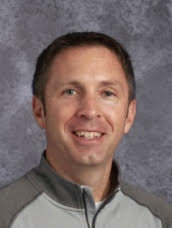 Upon entering the gym at North Polk during school hours, students will likely find Scott Huether leading students in all kinds of athletic activities. Huether, 41 years-old and in his 17th year teaching at North Polk, hosts classes such as Lifetime Fitness, Team Sports, Dual/Individual Sports and Freshmen PE, additionally he coaches the North Polk Girls Track Team. 
Huether's journey to the North Polk gymnasium started when he transferred from Westwood College of Technology in Denver, CO., where he studied graphic design and advertising, to Iowa State to become a teacher. While at Iowa State, Huether met his wife and now a fellow teacher at North Polk High School, Liz Huether. 
Huether decided to become a physical education teacher because according to him,"I like to move around, I don't like to sit still.'' 
In Huether's classes, you can expect to be really active, specifically in his Team Sports and Freshmen PE classes. In those classes, you can expect to play some of his favorite games such as Badminton, Tchoukball, and Spikeball.
While in his classes Huether says, "You better like to move and like to have fun in many different ways."
Huether, who describes himself as a quiet, easy-going, and goofy guy, says that his favorite part of teaching is, "every day is an adventure."
After school in the spring, when he is not teaching classes, Huether coaches the North Polk Girls' Track Team. The girls' track team experienced a lot of success in the spring of 2021 when Huether and his team had girls qualify for 13 events at the Iowa High School State Track Meet at the Drake Oval; it was a school record for the girls. In 2008, Huether was a part of the girls' track team that won the entire state meet. Girls' track is not the only sport Huether has coached, however. In the past, he coached middle and high school basketball, middle school football, and high school cross country.
"Coaching brings the struggles and it brings success, you just have to stick with it," Huether stated.
Outside of North Polk, Huether enjoys spending time with his two kids: Stockton, a freshman at North Polk, and Frankie, who is in the 7th grade at the middle school. He also enjoys spending his time watching movies, specifically Marvel and Star Wars movies are his favorite, and collecting baseball cards.