Señora OJ says "Hasta luego"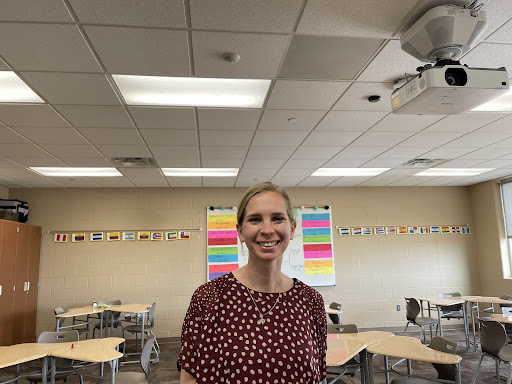 After two years teaching Spanish at North Polk High School, teacher Mrs. Ordoñez Jones, is leaving. OJ is moving to Bakersfield in California because her husband found a new job.
"I hope to continue teaching Spanish," expressed OJ.
While she is excited to go to California because her family lives there and because of her husband's job opportunity, OJ is sad to move because she enjoys working as a Spanish Teacher in the middle and high schools. 
"I enjoy the students that I have and I'm sad that I'm not going to get to see the students kinda progress through high school and get older," stated OJ.
OJ's best memory is when a student was singing the months of the year during an exam. This was a song that OJ had taught the students to help them learn the vocabulary. OJ's students really like her and they are going to miss her next year. 
"I am sad that she is leaving, I would like to have her next year because she is a really good teacher and I really like her," said Bella Brandi, Spanish 1 student. 
OJ has not been in North Polk for a long time, but she learned a lot of different things that are going to help her in her career as a Spanish teacher and in her daily life; the students taught her as much as the teachers did. 
"I think that just as a newer teacher just the help and the advice that I have gotten from the other Spanish teachers, that is definitely something that I'm getting with me, the lessons that I learned from them, just teaching and the profession, the connection with the staff and the students," said OJ.