The Impact of the Grading System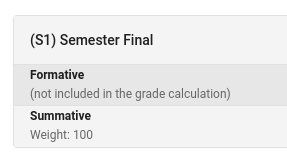 Ever since the current grading system at North Polk has been placed, it has become a topic that can be seen as both a positive and a negative. This being not only by the student's within the district, but also with staff. 
The grading system in the district consists of summatives and formatives, with summatives like tests, quizzes and essays carrying 100 percent of a student's grade. Contrary to this, formative assessments, such as homework and practice tests, carry zero percent in a student's grades. 
With such drastic differences on the effects of both formatives and summatives on grades, disputed opinions have been given on the topics of this implemented system.
When asked about the importance of formatives in a writing process, English teacher at North Polk High School Drew Hemesath stated that "the focus is on the process, not just the product."
He explains that his approach with formatives and forming essays is breaking down the summatives into fragments, which he explains are more manageable assignments, as well as to practice the skills that will need to be demonstrated in summatives. 
Through a set of polls sent to students of North Polk High School, a summary of whether or not they are more likely to complete formatives over summatives and reasons as to why they may not get done were given.
Formatives are placed by teachers to provide practice and feedback for students, and in the summary of polls conducted, it showed that 85.5 percent of students believe that formatives are important in a learning environment. Though this information is presented in the same polls, it is shown that only 38.3 percent of students state that they complete their formative work.
Furthermore, the top reasons as to why students state that formative assessments are not getting done are stress with other classes, extracurricular activities and/or work. Some of the following reasons are that teachers may assign too many formative assessments, and many stated a lack of motivation.
"Practice is how one learns, but I have a hard time finding motivation to do them [formative assessments,]" stated sophomore student Morgan Eyanson-Renken. 
Though Hemesath stated that he understood the perspective of students not completing formatives, in response to these percentages he expressed that he worries for the future. He spoke on students' future employability skills and other aspects of life, as well as the personal habits that are formed when not completing formative assessments.
 "I feel that I already see lower completion in formative assessments and that carries onto summatives… as well as students coming in less prepared, due to them doing less formatives," voiced Hemesath furthermore. 
Hemesath ultimately stated that he wished for students to focus more on the process and the learning throughout their high school experience rather than the grades students end up with. 
"That's going to matter most when you leave high school, not the grades, but the habits and skills that you formed along the way," expressed Hemesath as a final regard to students.