State Bound Comets
Boy's and Girl's Basketball Teams advance to State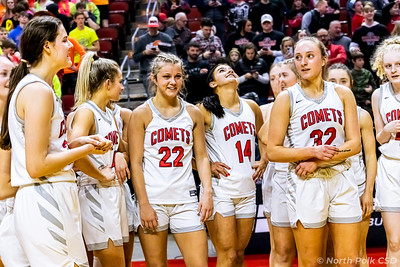 Within the span of one week, history was made for North Polk High School with both its girls, and boys varsity basketball teams advancing to the 2023 Iowa High School Athletic Association (IHSAA) Postseason State Tournament. 
Both head coaches Aaron Dose, boys, and Clint Albertsen, girls, state that both teams have progressed positively throughout the season and are deserving of the teams places in the State Tournament. 
"They've [boys basketball players] bought into getting better everyday, and continue to get coached really hard," Dose voiced. Furthermore, Albertsen stated that he makes sure the girls know they deserve the positions they're in and are prepared for whatever may happen during games.
On Feb. 22, the North Polk Girls Varsity Basketball team won the Girls Regional Final and advanced to the State Tournament against Bondurant-Farrar with the score of 45-26. Just six days later, the North Polk Boys Varsity Basketball team won the Substate 3 Championship against Clear Creek-Amana, 52-43, and also advanced to the State Tournament.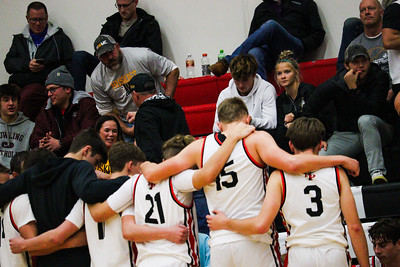 Coach Albertsen expressed the thrill of having both teams advancing onto the State Tournament, as well as how it impacted the school district. "It's really exciting, the community gets behind it…to have both teams in it [State Tournament] is a big deal,"
The girls basketball team furthermore advanced to the Semi-finals in the tournament on Feb. 28 after winning the quarter-finals game against Clear Creek-Amana with the score of 61-30. After a definitive semi-final game on March second, the girls team won 53-41 against Bishop Heelan. The team will play on March 4 against Dallas Center-Grimes for the State Championship.
On the boys side, they will be playing their quarter-final game on March 7 against Newton Cardinal's. 
When asked how to support both teams, Albersten expressed that positivity towards both of the team's athletes was a big contributing factor as well as having a support system. Moreover, Dose stated that the support from not only the students and staff has been given, but also from the girls basketball team, conveying an undeniable school spirit. 
"We're [the boys basketball team] really happy for the girls, we've been supporting them and they've been supporting us as well this whole season," expressed Dose.