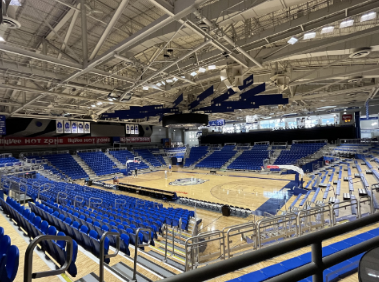 On Monday, October 23 a media day was held at Drake University for high school journalism students to get a real world experience at a press conference, interviews and overall getting more insight to sports journalism. 
The day revolved around meeting and interacting with the Drake Men's Basketball Team as well as getting the head coach Darian DeVries's perspective on the upcoming season. 
A major topic that was discussed in the press conference with DeVries was the sizable number of new players entering the team. 10 out of the 17 players are newcomers to the team and range from Washington to Wisconsin. Some players were moved to Drake from the NCAA transfer-portal while others are freshmen in college and therefore new to the team. 
Coach DeVries explained that the chemistry of the team grew throughout pre-season with Summer practices and a trip to Spain where the group was able to bond. He also concluded that the new faces on the team all brought great qualities to the team and the coaching will change continuously depending on the outlook of the team on gameday. 
"It's going to be fun to watch them grow on gameday," DeVries furthermore remarked. 
After the press conference, the student journalists had the opportunity to interview the players and get their unique perspectives on the changes of the team.
Senior transfer Kyron Gibson explained that being one of the older guys he tries taking a leadership approach in not only games, but during practices as well.
In response to his mentality and leadership during this season he explained that he tries "approaching practices as if it's a game…and communicating, being vocal." 
In contrast to the senior experience of Gibson, freshman Bennett Fried explained that being the last to join the team the first week was the hardest in getting acclimated. He then communicated that with the help of both the coaches and the players he was able to create a connection with the team he was able to carry on with his love of basketball from a young age.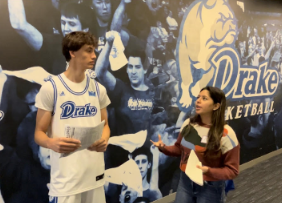 Overall, the media day at Drake was a success in both learning and enjoyment aspects. When concluding his opening statement in the press conference, DeVries gave a sentiment that can connect with not only Drake students, but all basketball fans: "I'm excited for a great season of basketball."