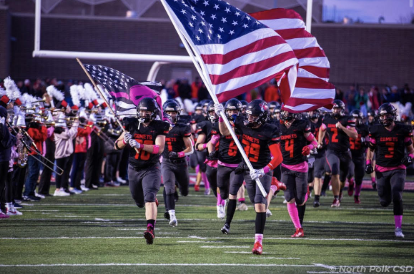 For the first time in over 10 years, the North Polk High School Football Team will played at the University of Northern Iowa's field complex, dubbed the "Dome" in Cedar Falls. 
On the night of Friday, November 3, the Comets football team defeated Xavier High School with a score of 17-14 in the 4A Classification Quarterfinals. This win led the way to the Comets advancing to the semi-finals. 
Senior Elijah Boatman explained that the team continuously motivated each other throughout the season by sharing constructive criticism as well as promoting having "great practices to have great games." He attributed these actions to the team's strong season and even stronger bond. 
The team will play at 4:00 p.m. against Lewis Central and the students will be able to send off the Comets football team in the high school parking lot at 11:45 a.m. 
Boatman explained the variety of emotions he was feeling including excitement due to the team not making it to the Dome since 2010. Furthermore, he stated "[the football team] can't be satisfied, we need to win this game, we need to make it to the next one and win that one. We need to win it all." 
Lewis Central gained the upper hand on the day of the game and the final score of the game was 35-5.