Comet royalty, unprecedented time shows impact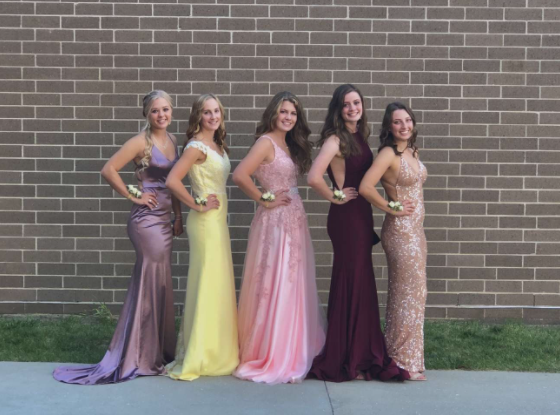 An honor that most high schoolers hope they get to be a part of at some point in their journey; the night before the big game where royalty is presented to the community. Students gathered in the Comet Stadium to see each representative from each class walk down the track, all decked out in their nice clothes. Unlike the past years, the coronation was held on the track, not in the auditorium.
COVID-19 did not put a stop to the long-lasting homecoming traditions at the high school. From the freshman representatives to the seniors, everyone had their different highlights and reasons as to why being selected for the homecoming court was impactful to them. 
Freshman Rebecca Greene expresses what it really meant to her, "It meant a lot to me because it made me feel special with all my friends supporting me." 
Greene got the opportunity as a freshman to walk for her class, leaving her with an experience that she will never forget. Not only are the freshmen impacted, but also for the senior class.  
Almost four years later, Maya Monk, a senior, got the honor to be on the court and she was asked the same question, what does it mean to you to be on Homecoming Court? Her response, "It makes me feel special- means a lot to know that people would vote for me in the first place, even people I don't talk to so much, so it makes me think that I am doing something right (trying to be nice to everyone)." 
Being nominated as a class representative helped these students realize that people are here to support them and that they are noticed by the rest of their class. 
Greene explains how this changed her high school experience, "It made it better and showed me a lot more friends and supporters."
No matter what class, age, or popularity you may be, being nominated for Homecoming Court is a huge honor to each representative. Getting all dressed up, the support and encouragement from the crowd, or even the venue it all has its perks, but what does the King have to say? Thomas Jones was announced as the 2020-2021 Homecoming King with Hailey Steffen as the Queen.
Jones received a series of questions regarding the coronation and homecoming in general. Jones was presented with the question, how he felt about being selected as the King he says, "I thought it was a nice honor." 
From the day the school got to vote the representative to the moment the Senior class heard the Queen and the King, it is all a memory to these students. The gratitude of being selected is shown when talking to each nominee. 
Thanks to the student council and each student the coronation was a hit and the memories that these students gained will stick with them forever.