New to North Polk High School
Today's educators play a vital role in critical thinking, having a growth mindset, and problem-solving strategies for the next generations. The passion teachers have to educate students provides them with a high potential to exceed. The high school welcomed a handful of new teachers to the district this year, Colleen Fowle being one.
Before coming to North Polk, Fowle got her undergraduate degrees in math and chemistry from Buena Vista University. Fowle also has the addition of a Master's Degree in Environmental Science at Iowa State. After getting her degrees she worked in public education, and in water resources and conservation fields (for both city and non-profit agencies). Fowle later decided to go back to school to get her Master of Arts in Teaching after being an interventionist for 6th-12th grade. 
"I was a student teacher at Waukee and graduated from Drake last December. During spring 2020 I taught 6th-grade science at Ames Middle school," explains Fowle. Having many different experiences in different fields and age groups, Fowle decided to come to North Polk High School. 
Fowle has two children. Evan, a fifth-grader, and Elena, a ninth-grader, are both here in the district. North Polk was meant for her because, "I was searching for a school district whose goals and values align with my teaching philosophies, and after observing some teachers in the district last year, I thought NPHS would be a good fit for me. A team-centered approach is very important in education, and I really enjoy the team environment that NPHS has built!" 
After being welcomed to the district, Fowle is teaching Chemistry and Physical Science to many high schoolers. She can also teach Physics, Earth Science, Math, and lastly middle school STEM. Having many different branches of science to choose from her "true love" is Earth/Environmental Science, but she enjoys teaching any form of science in positive work environments.  
"I love teaching because I value life-long learning and having the opportunity to spark an interest in science and critical-thinking for students," expresses Fowle. 
Being a teacher was not her childhood dream career, Fowle explains that her mother was an elementary teacher and as a middle and high schooler she helped her mom with lesson plans. Fowle also enjoyed math and art as a child, her dad designed homes that encouraged her for a career in architecture. 
Fowle describes how a teacher played a role in her career path, "My career path changed when my high school science teacher told my parents at conferences that he saw potential in me as a scientist. I had never considered a career in science; back then it wasn't common for a woman to desire a scientific career. My teacher's casual comment to my parents really piqued my interest and helped me see myself as a future scientist."
After working as an interventionist with a variety of different age groups, Fowle found herself in the present day, teaching many high schoolers. After being asked, why she enjoys teaching high schoolers, she answered, "I enjoy working with high schoolers because of their developmental stage- they are still exploring who they are as individuals in the grand scheme of this complicated world, yet they are still able to think critically, logically, and introspectively about topics." Fowle also enjoys the different senses of humor that she can share with each student. 
Fowle looks forward to the years to come and the different students that will come through the classroom doors. Lastly, Fowle has some advice for upperclassmen in particular, "Explore your passions and how you can utilize your interests and talents in a career. There was a time when I chased a large salary, but I learned through experience that you will feel more personally and professionally satisfied if you are chasing your dreams and passions, rather than a paycheck."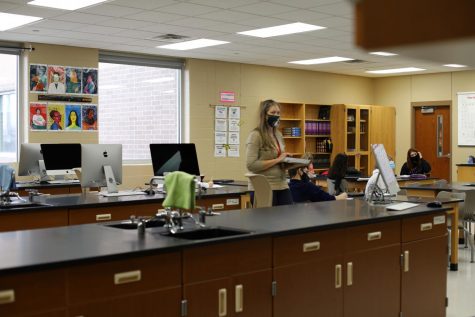 After many different experiences and hard work to earn different degrees, Fowle continues to teach the students at North Polk High School through growth-mindsets, hands-on activities, and many more. She encourages students and loves seeing the growth in everyone. After all, she might be the one to inspire a student that had no idea they would excel in a field of interest.