A 2020 Grad's Life in College: Sami Martin
How the COVID-19 pandemic has impacted the lives of recent high school graduates
Sami Martin, 18, left high school behind last year for university in the face of the COVID-19 pandemic. She has had to work her way around the many obstacles that college life has presented her throughout the past several months, while striving to further her education and passions.
Martin graduated from North Polk High School last June in 2020, as the coronavirus began to spread around the United States, as well as the rest of the globe. Since then, she's been winding her way through college and spending her free time with her friends.
"I'm currently attending the University of Iowa," Martin said. "My majors that I'm pursuing now are Vocal Performance and Pre-Med."
In college, Martin is able to pursue her interests with a more in-depth approach, after being involved in the Fine Arts at North Polk. Of course, college greatly differs from the high school experience, especially with the new normal presented in today's everyday life.
"College life is very different from high school, almost a shock. High school was filled with people you knew and easy assignments that took little time," Martin said of the stark difference between high school and college. "Going to a college where you know barely anyone at all made it difficult to make friends, especially during this pandemic. But soon I adjusted and made friends, though the workload in college isn't getting any easier."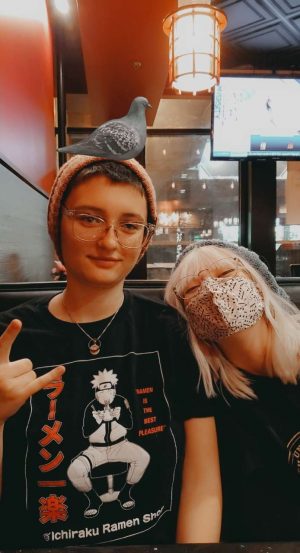 As a 2020 graduate, Martin missed out on her last few months of high school. She expresses some sadness, regrets, and what she enjoyed about her high school experience at North Polk.
"Everything was strange about my senior year. I missed going to the good prom; we were actually going to go somewhere beforehand. We did get a lot of time off school with no work, and I was happy with that," Martin expressed. 
Martin also expressed one of her biggest disappointments that came around when she graduated.
"I didn't get to sing at my own graduation! All those years of singing at other seniors' graduations, and I never got the chance to do it at mine! I don't think I'll ever get over that."
Though she was disappointed about not being able to sing at her graduation, Martin looks back on her high school years with fondness.
"My experience was really good overall. I got to spend time with my friends, participate in marching band, choir and musicals. Of course, the only downside was that I had to do academic work, but I had no choice in that."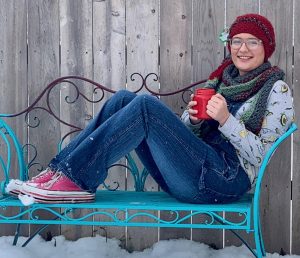 "I miss participating in musicals the most; they were my favorite part of the year. Alongside that, I miss high school choir. My college choir is online, and has a very different feeling to it because of that. Hopefully next year, it will be in-person."
After graduating during an extremely uncertain time, Martin had to work her way around the obstacles and mishaps of the pandemic that impacted the way her freshman year of college started off.
"I mostly do online schooling with only two classes being in-person. Online schooling is a little easier in my opinion," Martin mentioned. "Overall, I don't exactly enjoy online learning, but I don't despise it. It has its ups and downs."
Martin gave her insight on what the most difficult and strenuous part of her college experience during the pandemic.
"The most difficult thing about being in college during a pandemic is motivation, maybe because I've burnt myself out too early or general pandemic boredom," Martin said. "Lately, I've found it hard to practice in the practice room without dying inside. I really love singing, I just hate learning warm-ups."
Martin will be finishing her first year of college this summer, and she still looks back on her high school years, especially her senior year. 
"My biggest takeaway from high school is that sometimes, the most boring and uneventful things are what you miss most of all."