Beat The Beast
Ross Muhlbauer is a sophomore at North Polk High School and has been fighting Melanoma for five years. Muhlbauer shared, "I have a pretty vivid memory of the day I was diagnosed." It was approximately the beginning of sixth grade. He went to the doctor's one day to have a mole removed off of the back of his ear. When he came home from school his parents, April and Kieth Muhlbauer, shared the news that the mole was not just a mole. 
They are still unsure of the cause of his cancer. "Melanoma can come genetically, but it is also a type of skin cancer so getting it from the sun is also a possibility. That's why it's very important to be sun safe when going outside," he explained. 
Through the last five years, Muhlbauer has needed support during difficult times. "A big thing that keeps me going is the constant support my family and I get from our community." The community has helped support the Muhlbauer family through P&M selling "We Wear Black for Ross" shirts and sweatshirts, and through Polk City Nutrition giving a portion of their profit they made on April 11 to the family. Both gave the funds to the Muhlbauer family in order to help with the medical bills. Although he receives a lot of support from the community, "My family have been some of my biggest supporters through all that I've gone through with Melanoma."
Since being diagnosed, Muhlbauer has had two surgeries, three recurrences, multiple rounds of scans, and too many lab draws for him to be able to remember. He is currently on his second round of treatment. He shared, "Being in and out of school for appointments and such can make keeping up with school work kind of difficult, but all in all, it's not too bad."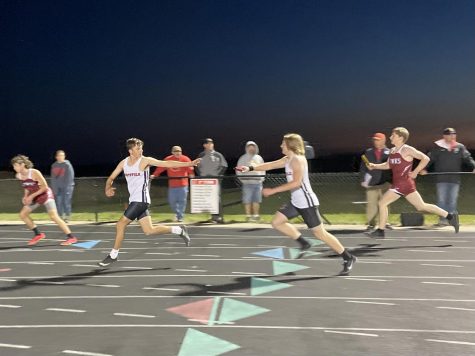 Even though keeping up with school work may be difficult at times due to Mulhbauer's busy schedule, he still finds time to participate in outside curricular activities he enjoys. Muhlbauer participates in boys' track and field and the high school musical. In the musical, he plays Billy, one of the main roles, although he had to miss a lot of practices by going to Florida due to his reoccurrence he shared "Because I have missed a fair bit of practices, I have had to do a little overtime to make sure I have my lines down." Muhlbauer performs for the musical on all four performance days which include: May 8 at 3 p.m. and 7 p.m., and on May 9 at 2 p.m. and 7 p.m.
With everything Muhlbauer is going through he mentions "The biggest thing I want people to know is that their support and prayers never goes unnoticed, and it is always very much appreciated."