Agricultural Hazards
On the afternoon of May 13, the North Polk  Ag Shop was surrounded by animals, machinery, FFA students and children excited to learn. 
Every year, the North Polk FFA hosts an interactive event where third-grade students from Central and West gather to learn about Agriculture. During the event, the students walked around to different stations led by FFA members. 
Jessica Hebert, Ag teacher and FFA advisor, listed topics that FFA talked about. "These stations included tractor safety, grain semi and transport, animal safety- ducks, chickens, bunny, goat, hogs, horses, chainsaw safety, lawnmower/weed-eater safety, service dogs, grain cart safety, off-road vehicle safety." 
The FFA students got to practice their communication skills while working with the third graders. For grain bin safety, the FFA students did a simulation with an upside-down milk jug. The simulation showed that when the bottom of the milk jug or bin is open the grain will flow at a rapid pace. If a person was in the grain bin while this is occurring, it could be deadly. 
The students also got to get into close contact with farm animals such as rabbits, horses, pigs, chickens and ducks. The kids were taught how to handle the animals and groom them. They also learned the feed that the animals need to be healthy. 
Hebert ultimately wanted the kids to understand the importance of safety around animals, large machinery and tools. She explained, "Each year around 300 kids under the age of 19 die due to agriculture-related accidents. It's important kids know how to be safe, but also what to do in case of an emergency. Farm safety day allows for kids to be exposed to various animals and equipment that are used in the agriculture industry in the hopes of preventing a farm-related accident or death."
About the Writer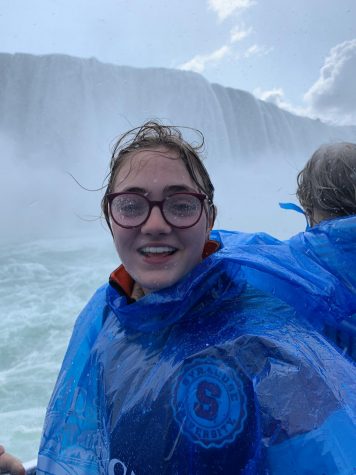 Olivia Moody, Newspaper Editor
Sophomore Olivia Moody is a Newspaper Editor for The Orbit. Currently, she is mainly working on writing important stories about her school, "Writing...