An Engaging Introduction to Cultural Diversity
Music, dancing, and life lessons from all over the world were introduced to the high school students Friday Oct. 22. CultureALL brought 16 cultural representatives to the high school for an immersive learning experience. 
CultureALL is an organization that strives to promote cultural inclusivity through Iowa's communities. 
As Stacey Kimberlin, director of consulting services for CultureALL, puts it, "We believe that every person has a right to be included; and every person has a right to be inclusive of others. We build communities where everyone is welcome, because everyone is welcoming. Everyone feels valued and inspired to participate. In this way, we elevate our society and the quality of life for all. By sharing cultures, we develop a shared sense of community." 
Assembly Schedule 
On Friday, students had a day packed with varying types of learning. They attended the assembly in the morning and had classes (periods 6-8) afterward. Each student was put into groups based on their grade and their last name. Students had the opportunity to view four different cultures out of the 19 presenters that were present. Students also attended an assembly where they discussed the popular culture within North Polk High School. 
Ranging from Jewish Kenyan culture and Native American culture to Culture from Nepal students had the opportunity to immerse themselves into cultures from around the world.
While there were 19 cultures present, four of them will be described below. 
RJ Hernendez: Mexican Instruments 
Hernendez captivated students with his vast knowledge of instruments by explaining how they work and allowing students to play along with him. He also told many stories from his childhood regarding Mexican culture. 
Pragnya Yogesh: Indian Dances 
Trained in traditional Indian dances, Yogesh operated a small dancing workshop. She taught students four types of Indian dance that ranged from using sticks, more modern types of dances, and dances that rely on creating images through movements with the body. 
Dawn Martinez Oropeza: Mexico/Aztec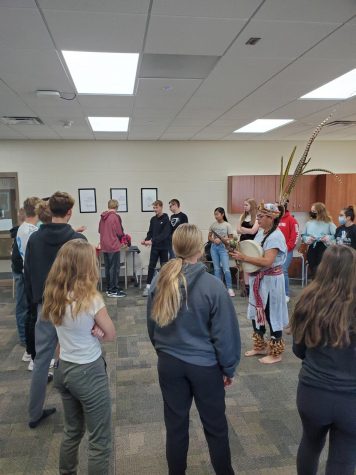 Martinez Oropeza broadened students' understanding of the Aztec culture. She explained how the path of migration that the Aztecs took was based on the monarch butterfly's migration. To get to Mexico City, the Aztecs traveled 300 miles from Wisconsin and areas of Ohio. She continued on with her presentation noting that Mexico City was an island that was built out of packed dirt and streets of water. These streets created four quadrants of the city: ceremonial, shopping, agriculture, and living areas. Many inventions came from the Aztecs such as indoor plumbing, and the balls that are used for various sports due to their supply of rubber trees.
Tanis Sotelo: Japanese Festival
To give students a better understanding of Japanese culture, Sotelo described the Obon Festival. During Obon people celebrate the lives of their loved ones. To help with the celebration the Japanese typically use the taiko drum that provides simple rhythms of music. 
While there were 19 ambassadors present, the journalism students were only able to attend a few of the presentations. Below is a list of the other ambassadors and their cultures.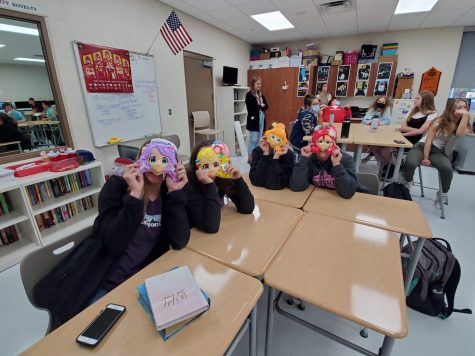 Sharifa El Azizi: Morocco 

Shweta Agrahari: Nepal 

Yolanda Duerson: Philippines 

Eric Idehen: Nigeria 

Phoebe Liang D'Alessandro: China 

Mamta Israni: India/Multicultural 

Anthony Stevens: Senegal 

Abe Goldstien: Jewish Culture 

Josie Shaw: Kenya

Sonal Mistry: India 

Valarie Williams: Latin America/Global Cultures

Yoko Tanaka: Japan 

Emmett Phillips; African American Culture 

Eugene Fracek: Native American 

Vinh Nguyen

: Vietnam 
Students experiences 
While some students considered the assembly a break from learning, some of the lessons they received were a lot more valuable than an English writing assignment, science lab or Spanish quiz.
While each presentation was valuable, many students found a particular culture to be the most captivating. 
Senior Jerica Heintz was partial to the Indian presentation, "I enjoyed the Indian presentation the most because of the henna and the explanation of why henna was so important to their culture."
Junior Nate Bergerson describes his favorite experience, "My favorite one was the Latin American one because it was how dance was important to her culture."
Freshman Stockton Huether found an appreciation for Japanese culture, "The man teaching us had an interesting connection to Japanese culture, and he shared many of things he himself learned about Japanese culture, such as musical instruments and festive masks."
The school district should be happy to know that their Comet students were eager to learn and branch out from their popular culture. While not everyone had an eye-opening experience, all students could agree that their cultural knowledge was expanded. 
Huether describes the overall experience, "I learned about how many aspects of our own culture can be traced and connected to other cultures…By learning about other cultures, I was able to distinguish what was unique to my own culture by comparing it to other cultures."