Will and His Will Power
Will Ford is a junior at North Polk High School who was recently diagnosed with leukemia. To help him fight against leukemia, the North Polk Student Council and Rock Valley Physical Therapy will be hosting a 5K and all the proceeds will go to the Ford family. 
Will Ford was diagnosed with leukemia on Oct. 8, 2021. Will Ford was on the cross country team at this time and they began tests that led to his diagnosis because Ford expressed to his parents, Bill and Debbie Ford, that his running did not feel the same compared to other years. 
Debbie Ford shared, "Not only was he not performing at the same level, he didn't feel like he had the same stamina or endurance. After it didn't improve over several weeks, we questioned whether he needed dietary supplements. We explained the situation to our family physician who ordered some routine blood tests which detected this, and several more in depth tests were needed to confirm the diagnosis."
Leukemia affects the blood and bone marrow. The process begins in cells that would normally develop into different types of blood cells. A damaged blood cell multiplies uncontrollably, causing them to not function normally and block the production of more normal cells. 
To treat this, Will Ford's primary treatment has been chemotherapy given orally and injected into a vein. "Since Will's cancer is in his bone marrow and blood, there isn't a surgery to remove it like you would a tumor, for example. Will will undergo several treatment phases spanning many months to help ensure all the leukemia cells are destroyed," shared Debbie Ford.
Debbie Ford also mentioned the gratitude they have from all the care and concern expressed for Will Ford, including the Will Power 5K that has been put together for him.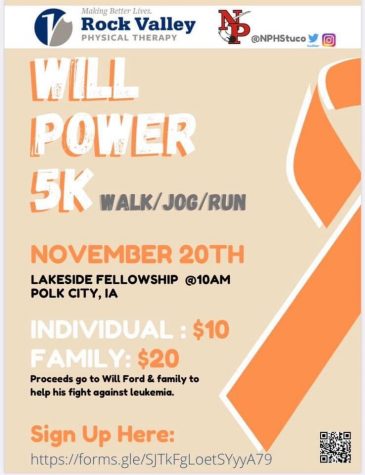 The 5K will be held on Nov. 20 at 10 a.m. It starts at Lakeside Fellowship in Polk City, Iowa.  Participants are able to walk, jog, or run and they can sign up online after scanning a QR code. The cost to participate is $10 for individuals and $20 for families. 
Debbie Ford shared, "We will be inviting several family members to attend and/or participate in the 5K. We don't expect Will to be able to run in the event, but he'll be there cheering on everyone!" Due to the treatments Will Ford is undergoing some of the common side effects including nausea and fatigue. Which also has made it difficult to attend regular school. 
Overall, Debbie Ford wanted people to know that "'You know you best.'  If something doesn't feel right, make sure you discuss it with your family."