Basketball Accomplishments
Lucy Schaffer and Jevin Sullivan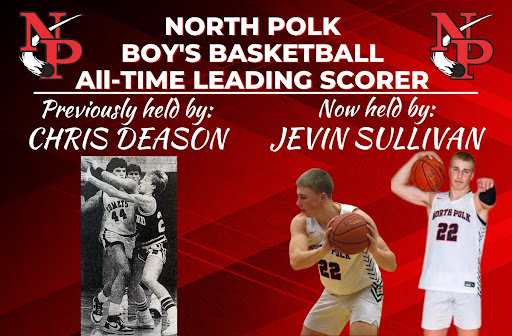 Recently, the North Polk Basketball teams have had two extraordinary accomplishments from two senior basketball players, Lucy Schaffer and Jevin Sullivan. 
Sullivan has been playing on the Varsity Basketball team for all four years of high school. Last year, at the last game of the season Jevin Sullivan was the sixth person at North Polk to score 1,000 points during his high school career.
Not only was Sullivan the sixth person to score this prestigious total, he is also North Polk's newest record holder for the most points scored during their high school basketball career. Previously, the school record was 1,288 points scored by 1987 graduate Chris Deason. When presenting Sullivan with this new honor, Deason came to support him by passing down his legacy.
Sullivan shared, "It's a huge honor to be the all-time leading scorer. The coolest thing to me is getting to see hard work translate to success, and this season especially I, as well as the rest of our guys, have accomplished some really cool things, and I think that speaks volumes towards the amount of time and commitment that has gone into this season."
Throughout the last four years, there have been three new players to score 1,000 points throughout their basketball season: Maggie Phipps in 2020, Sullivan this year, and as of Feb. 2, Lucy Schaffer was added to the record books, creating a total of seven basketball players in all of North Polk History. She scored 1,000 points on Feb. 2, 2022.