My Perspective: FFA District Competition
After experiencing the FFA Sub-District competition, I thought that District Competition would be a breeze. Boy, was I wrong.
On Saturday, March 5, along with the North Polk Ag issues, ag sales, delegates, and district test students, I piled onto the school bus just as the sun was rising. North Polk was on its way to the District FFA Competition at ADM High School. 
Unlike a speech meet that has specific times for each contestant, there is only a numbered list to show what order students are in. Unfortunately, the ag issues class was listed 11 out of 12 teams and I was listed 9th out of nine contestants. 
While all competition contestants waited in the holding area, the high school gym bleachers, the delegates were tasked with voting on new FFA District Officers. Each FFA chapter is in charge of designating two students as delegates who get the opportunity to partake in the democratic process of voting on new officers. The delegates hear various speeches from candidates and vote accordingly. 
While this was all happening, I witnessed the full gym slowly empty. I sat in my designated spot on the bleachers with my required reading for English class, some jerky to snack on, and a list of the 100 most asked interview questions for roughly four hours before the gym was almost completely empty. 
While my excitement had drained about an hour into the wait, my heart picked back up again when it was finally my turn to compete. I would have to say: that interview was the fastest ten minutes of my life, but probably one of the most rewarding. 
Prior to my interview I had to use all of the edits that my judges from sub-districts wrote and edit my resume, cover letter and perfect the way I portrayed myself during the interview.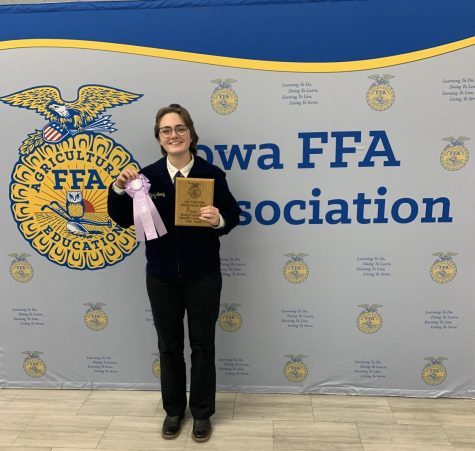 When results were finally announced all of the waiting definitely paid off. The ag issues team earned a bronze award. Dillon Hanlon, who did ag sales, earned a silver award. The district test takers all did well, and I ended up earning the first place gold award. Getting this award means that I will move on to compete at the State FFA Convention on April 11, unfortunately I was the only student that moved on to State Competition. 
I can not speak for the other North Polk FFA District competitors, but I would have to say that this opportunity has really prepared me for the future. I now feel capable in my ability to create a resume and cover letter and also think on my feet when it comes to interviewing questions.