Lightning Strikes Out Competitions
As the weather is supposed to be warming up, the spring season sports are in play. Tennis, soccer, track, and golf are all actively in practice preparing for their future games and meets. 
Tennis
The girls' and boys' tennis coaches are thrilled at the beginning of the season looking forward to what is to come next. Alex Bollmeyer is the coach for the girls' tennis team and Bill Taylor is the coach for the boys' team.
Girls' Tennis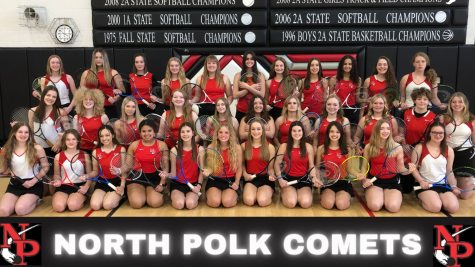 Girls' tennis practice started the first day back from spring break, March 21, and their first meet was April 4 against Webster City. 
To prepare for their future meets, Bollmeyer shared, "For the first couple of weeks, we are just trying to get our players as much practice and as many repetitions as we can. Most of the girls on our team have only a couple years of experience in tennis, if any. It is a new sport for most of our athletes and tennis has a bit of a learning curve. So we try to get our girls as much experience and opportunities as possible so they are hopefully at least somewhat prepared for our first meet. With the weather this season, we will have many girls on our team who will have less than five practices outside on the tennis courts in their entire lives before their first high school meet. That can be intimidating! So we try to get a lot of basics and fundamentals of tennis installed in those first couple weeks to help our girls prepare for their first couple of meets."
Due to Iowa weather being unstable this spring, a large hardship the girls tennis team is facing is having time outside playing tennis on the court. Although it is unfortunate to not be able to practice outside like previous seasons would be already, Bollmeyer stated, "Our girls have had a great attitude about that so far and have made the most of the practices we have been able to have, it's been a great first couple of weeks. Hopefully the weather starts to cooperate here soon and our girls get some more opportunities to play some tennis."
As the season starts, Bollmeyer looks forward to "being a part of a team. I always say that being a part of a team you enjoy being on is one of the best things in life. It's a group of people you spend a lot of time around, working together towards common goals, and sharing positive and negative experiences with them. It's awesome." 
Bollmeyer always enjoys coming to practices and meets because he enjoys being a part of their team. "We have a great group of girls on our team that makes practices fun to come to each day. As a coach, what I enjoy each year is you get new players into the program who add new personalities to the team. You have the players on your team you have gotten to know for a couple years already and then you have a new group of players that you get to know as well. It leads to a great mix of teammates and this year is no different," Bollmeyer shared. 
As meets start soon, Bollmeyer encourages "students to come and watch a home tennis meet this year! Tennis isn't often thought of as a spectator sport like volleyball, basketball, track, etc., but it is a fun sport to watch. There are always 6 courts playing at the same time so there is always something or someone to watch. You can easily watch many of our girls compete at one time. There is no admission fee for tennis meets so bring a lawn chair or blanket and come to one of our meets this year, you'd enjoy it!"
Boys' Tennis 
Boys' tennis started practicing on March 14. This year, they have 20 boys going out for the season. Occasionally, they have practice in the middle school gym, but try to be on the tennis courts as much as possible. 
The boys' team had their first meet on March 29 against Pella, who placed top four at State in dual meets last season. Pella was in hard competition and the North Polk Boys Tennis Team lost 1-10. Although they lost most, Taylor shared, "Ethan Moon beat Pella's number one in three sets. Ethan is a sophomore who qualified for the State Tournament last year as a freshman."
Last season, the boys team graduated 16 seniors who played in the top 10. Due to them leaving, the team has a lot of new players who have never played before or never played on varsity. The team has a lot of growing to do and Taylor hopes to be able to be a wiser team by the end of the year after practicing. 
This year, Taylor is looking forward to "the players having fun while playing, hoping the players that are just now getting started to learn how to play and hit correctly, and the players that are just stepping into a Varsity position develop their game to the point that they are at ease competing at the Varsity level."
Soccer
The girls' and boys' soccer teams have two new head coaches this year. Coach Francis Lee is coaching the girls' soccer team this year and Coach Eric Nihart is coaching the boys' soccer team. Nihart has coached the boys team before, but this year will be his first year as head coach for the team.  
Girls' Soccer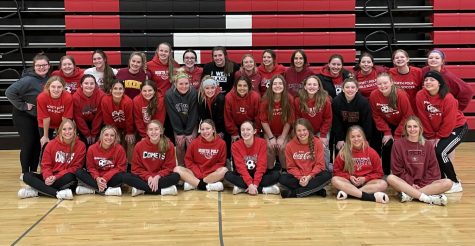 The team started training together on March 16 during spring break.
When starting this season, the team only had about 10-15 days to prepare for their first game. Since their games started very early in the season, Lee stated, "We have been working on our fitness, how to properly defend and attack, formation organization and just getting to know each other. Chemistry and culture play a big role in how successful you are on the field." 
Their first game was against ADM high school. It was a fast turn around for their team since their kick off was that Monday as well. Their home opener game was on April 7. 
As the season goes forward, Lee is looking forward to "Getting to know the girls even more! It's been great so far. This is a very talented and fun group. Game days are my favorite days because we get to showcase what we've been working on and gauge where we need to go. We are going to make some noise this season." 
Although Lee is very ambitious about this coming season, "There are always setbacks and hardships. I think my main concern is going to be staying healthy and injury free. We've got a tough schedule and by adding in 3A schools, Ames, Johnson, DSM Roosevelt, I made it even tougher. But this group can battle and compete."
Since this is Lee's first season coaching North Polk Soccer, she is very happy to be a part of the North Polk Community. She mentioned, "Everyone has been so kind, helpful and encouraging with another member of the coaching staff. These girls deserve consistency and quality. That is what myself and the coaching staff are hoping to give."
Her motto for this season is "100 percent effort and 100 percent grind." This season is one to look forward to. 
Boys' Soccer 
Boys' soccer practices started on March 14. They are preparing for games by "practicing in such a way that the intensity of a practice matches a game's intensity. We have spent time at the beginning of this season making sure our fitness level is game ready and that we are physically ready to play 80 minutes. The first 3 weeks of the season we focus on the fundamentals of the game- dribbling, passing and shooting," Nihart shared. 
Their first game was against ADM high school at home. They played a tough fight against them and went into double overtime. Unfortunately, right at the end ADM scored against us and we lost, but the boys' soccer team put in a long fight that led to the game being almost two hours long. 
This season Nihart is looking forward to "spending time with the boys on and off the field. I enjoy watching them get better as the season goes on and look forward to playoff games as well as marquee matchups in conference games. Team dinners after games are always a highlight."
As season goes on "Injuries are part of the game and can cause lineups to shuffle, which means there are usually some adjustments that must go on during the season. Most hardships faced during the season will not be extraordinarily difficult to handle, but how we respond as a team and as individuals will be important," shared Nihart. 
Track
As weather has recently been chaotic in Iowa, track meets are being canceled and coaches are scrambling to figure out how to get as many meets in for their teams as possible. 
The girls' track coach, Scott Huether, and boys' track coach, Bill Capaldo, have been doing their best to keep up with meet cancellations and practice. 
Girls' Track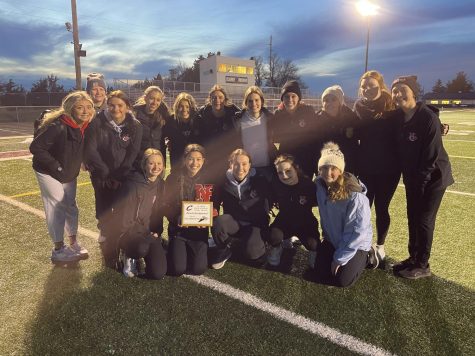 Practices began on February 21. To prepare for meets they are preparing as many elements of track as they can, Huether noted, "We have worked block starts and acceleration, handoffs, steps for jumping events, hurdle form, throwing technique, and conditioning. We have talks at practice about things that may happen at meets and how to prepare for them. We have also focused on mindset." 
Their first meet was an indoor meet at Iowa State University on March 10. However, their first outdoor meets when everyone ran was on April 1. Varsity went to Clarke High School, after the cancellation of Roland Story high school, and won with 155 points. 
This season, Huether is looking forward to "seeing the girls have success and reach their goals. It's fun to see the potential in practice and then see it play out on the track or in field events."
As the season has a lot to bring this year, Huether wanted to share, "We are a deeply talented team and every event will be fun to watch." 
Boys' Track 
Boys's track practice began on February 14 if students were not in winter sports.

To prepare for meets Capaldo uses, "A 12 week progression that we use for all of our event categories. We stick to that agenda/plan most of the year. We just never know when our meets may or may not happen due to the weather. So training stays pretty much the same throughout the year to maintain consistency and progression athletically," he stated.
Their first meet was on Tuesday, March 29 at Johnston. All their athletes were able to compete at that meet. 
As this season is progressing, Capaldo is looking forward to practicing. "Seeing young men work hard to achieve goals is gratifying. Obviously competing against other schools is fun to watch but just being around the guys is what I always look forward to," Capaldo mentioned. 
Although there is plenty to look forward to this season, some hardships the boys' track team is facing is "replacing our outgoing seniors is always a tough task. Especially the class of 2021. There are always unforeseen challenges that arise throughout the year that make things difficult," he noted. 
"Again this year we had the most boys come out for the track team in school history, 92 started and we are at 86 now. The team is very hungry to repeat or exceed last year's team accomplishments: winning the Raccoon River Conference Title, winning the state qualifying meet title, and finishing fourth place at State is a goal they have set to reach," stated Capaldo.
Spring Season
Everyone is looking forward to this year's spring sports. Although everyone is having hardships with the weather this year, coaches are trying to do everything possible to be able to give their athletes enough time to compete and practice. 
Tennis, soccer, and track were mentioned above, but golf is also a sport happening right now. Olivia Moody wrote an article about it separately that is posted on The Orbit website already.