The 2020 Comets Football Season
The North Polk Comets 2020 football campaign was not what they had hoped and expected, but there were many reasons for that, including having the hardest schedule in 3A, the derecho, and of course, all the Covid rules and regulations. 
However with the season not ending the way the team had hoped, the team took away a lot of positives. The team had great leadership from the seniors; Coach TeBrink even said "I am most proud of our team, led by our seniors, and their ability to focus on what's most important, playing the game for joy and fun while striving to improve and get better each day." 
The team had some great moments, like going into Knoxville and beating the Panthers for the first win of the season in dominating fashion. 
According to Coach TeBrink his favorite game to coach this season was against Winterset, "The playoff game against Winterset had it all: kickoff returns from Sal Capaldo, onside kicks by Tait Heppler, punts from Hunter Manock that changed the field position, big time defensive plays made by Thomas Jones, Dylan Meiners, and many others, an offensive ground and pound running attack with Thomas Jones leading the way, and big plays through the air from our QB, Bryce Aspengren, to our young receiving core of Sal Capaldo, Carson Brimner, Austin Parkins, and Kole Krings.  Our crowd was FANTASTIC, even though we had a very limited number of ticket vouchers available, our crowd was loud and made it a great playoff environment." 
The North Polk Comets football team was led by their seniors; their leadership and determination was felt throughout the team. 
According to Quarterback  Bryce Aspengren: "In my opinion the seniors set the tone for the team and were great leaders in terms of how a team should keep trying to get better even when things may not be going your way." 
Head Coach TeBrink agrees on the seniors leadership: "Our Seniors provided much needed leadership and encouragement during this season.  Their leadership was crucial during our strange and unusual off season and summer and continued into the season.  After the derecho, we had seniors organizing groups to help our neighbors and neighborhoods clean up and pick up fallen debris.  All season, our seniors lead by example, they came to practice every day ready to improve and get better and they always kept a great attitude even when things were not going our way." 
Lineman Cole Sanger said: "They played a major part in every sense, especially the team leadership role. If there was ever any question, you had all you would need to do is go to a senior and they could answer it for you." 
It's clear to see the impact of the seniors is undisputed and very evident, that appears to be the real story of the 2020 football season for the Comets. Friday night after the playoff loss, the seniors put their cleats on the goalpost as the seniors before them had. All fans of North Polk love the tradition when they hear about it. 
However even with all the leadership and effort from the seniors the season didn't go quite as well as fans had hoped; which has fans looking to next season. The biggest question they all have: How're the Comets gonna get better? 
According to Coach TeBrink: "Over the next couple weeks and months, I will spend time meeting with players, coaches, and have discussions about what we do well, what we can improve, what needs to change and what needs to continue for our program to continue to build our program.  We as a football staff will spend time reviewing games on HUDL and evaluate our play calls, scheme, and returning personnel to create a new plan for the 2021 Football season." 
Aspengren already has changes in his mind for himself: "I am planning on throwing with the wide receivers and lifting this off season to get better for the 2021 football season." 
Sanger also has plans to improve: "I hope to get a lot stronger and help my teammates do the same." 
The pursuit of being a better football program is definitely the main priority of players and coaches; which of course all North Polk fans love to hear. Even though the football season just ended and there are about 10 months before the first game of the 2021 season, it's never too early to start looking forward to it; or in the words of Cole Sanger: 'I'm most looking forward to playing football. It's a sport that I love to play and I already can't wait."
About the Writer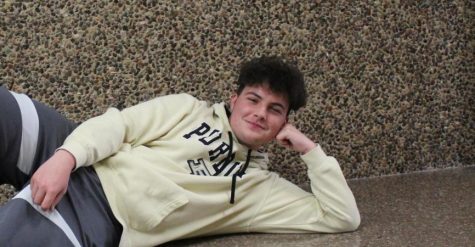 Matthew May, Broadcast Editor
Junior, Matt May, just wanted to get some journalism experience this year by taking journalism production class, "I needed a third hour class, and it...