Delayed Track Season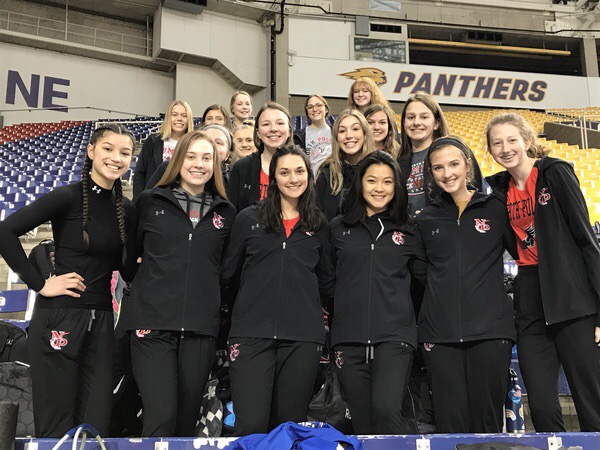 This year and the ones following, North Polk High School's track and field season has a delayed start due to Iowa High School Athletic Association, IAHSAA, and the Iowa Girls High School Athletic Union, IGHSAUI. 
Both organizations took two years to create the new rule for track season not being able to begin until March 1. Their reasoning for creating this rule was wanting to create a "dead  period" for the high school athletes between basketball and track and field. Bill Capaldo, North Polk High School boys' track and field coach, is a part of the IATFC, Iowa Track and Field Coaches Association. He shared that IATFC sent a proposal to the IAHSAA and IGHSAU to be able to have a "contact period" rather than the "dead period" because baseball and softball are able to have with the pitchers and catchers. Sadly, the two organizations rejected this proposal and they are still required to wait until March 1 to begin.
Furthermore, since track and field is unable to start until March 1, the North Polk teams will be missing out on fundamentals they typically receive in the few weeks of practice they have in February. Scott Huether, North Polk High School's girls' track and field coach, shared they typically "work on running technique, introduce strength exercises specific to track and preventing injuries, and we like to get the hurdlers working on their technique" during the few weeks their season typically starts. However, the freshman will miss catching up to speed with the other varsity girls. Capaldo stated that "not having this time delays our development" and the "highly technical events means our planning & programming to teach mechanics & technique doesn't allow us to compete at a high level as early as we would want." 
Without the extra few weeks in February, the teams will not be able to have their skills developed as much as they have been in previous years by the first track meet. Capaldo mentioned that by choice this year our teams will not be participating in any indoor meets because they will not have enough time to prepare for them. In a typical year, they usually will go to two or three indoor meets which gives them the opportunity to get used to running in meets again. 
All in all, both North Polk coaches have expressed that they are excited for this upcoming season, especially because of the lack of one last year due to COVID-19. Huether voiced, "I can't wait."