A Sensational Occasion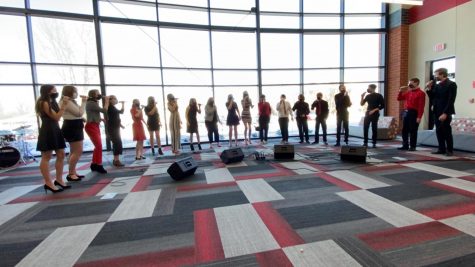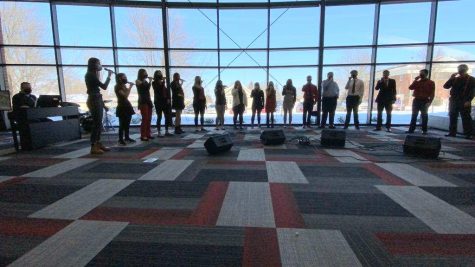 Comet Sensation is a yearly event held at North Polk's middle school and high school, where jazz choirs and show choirs from all over Iowa and the Midwest. These choirs have come to receive ratings from judges for their outstanding performances. In years past, nearly 20 schools and their choirs attended the event. However, due to the COVID-19 pandemic, many of these schools did not attend, and the overall process of Comet Sensation had to be changed to better fit the protocol.
"In previous years, we have had about 20 different schools on campus here at North Polk to compete. They would all come in the morning and would stay until the end of the day. Because of COVID, we had to change that," middle school choir director Zach Howell said. "We had each school come in one at a time. Each school had two hours to come into the school, get changed, warm up, perform, get a critique on their performance by the judges, change and leave the building. We also offered a performance space in the high school gym where there were no show choir risers and they just danced on the gym floor to space them out more. It actually worked better than we thought it would and we were very happy with it."
This year, with the limits that COVID-19 brings, the number of schools and groups attending the event dropped drastically compared to years past.
"This year, we had about 13 schools come to Comet Sensation," Howell stated. "Some schools brought more than one group so the total number of performances during the day was around 16-17 or so. Last year, we had about 17-18 schools with about 25 groups."
Students in the fine arts programs have always volunteered for Comet Sensation. This year, volunteers had to be limited to reduce the amount of people throughout the two buildings. The members of jazz choirs Alleman Way and Fermata Nowhere signed up for many different volunteer opportunities, like judge's assistant, concessions, and school host. Freshman and Alleman Way member Izzy Lowe described which volunteer shift she signed up for.
"My job was a host," Lowe said. "This means that I welcomed a couple of the schools and brought them to their warm up performance space as well as answered any questions they may have had."
The jazz choir students helped with most of the standard volunteer shifts along with the Fine Arts Boosters members taking on jobs counting vouchers and directing parents and schools on where to go.
"We have amazing student and parent helpers! Jazz band and choir kids were our main helpers when it came to students this year. They were there ready to go and help with whatever needed to be done the day before competition and then late into the evening the day of after everyone left. We are so lucky to have them," Howell said of the jazz choir volunteers. "Along with the students, we have our North Polk Fine Arts Booster Parents which also helped us a ton! Not all schools have such a helpful parent group, but we do!"
Many of these students in the jazz choirs are freshmen who have not yet had the opportunity to experience how a normal Comet Sensation functions. Lowe participated in her first Comet Sensation this year, and had many things to say about the experience.
"As a freshman, Comet Sensation was a very new experience for me, because we haven't really had any big events this year because of covid, so that made it seem like an even bigger event," Lowe said. "I did enjoy it because it was very much a learning experience and a great look at the behind the scenes for these kinds of events."  
Many of the freshmen were guided by their teachers and upperclassmen on what to do, where to go, and how to solve the minor problems that may arise during the controlled chaos of the event.
"The upperclassman and teachers were a big help by answering any questions I had," Lowe said of her older peers and teachers. "They made me feel very comfortable and involved in what was happening."
As mentioned before, there are other groups of volunteers who had signed up to help during the period where Alleman Way and Fermata Nowhere perform. Band students, as well as members of the Fine Arts Boosters helped out for the majority of the event alongside the jazz choirs. With the reduction of volunteers, only a select few students and adults were able to take on these jobs.
"My job was lights and sound management for performances," junior Landon Stokes said. "Having less volunteers to help this year was challenging in having to keep track of more locations, as well as working with scarcer numbers to set up and tear down."
Though there were far less volunteers for set-up, Comet Sensation itself, and tear-down, many of the students still had fun and worked hard to put on the event.
"I had fun this year just because of all of the people I worked with while volunteering," Stokes said. "It's always fun to work with my friends."
This year's Comet Sensation has proved to be one that will be forever remembered by those who performed and worked during the event. A huge thank you to all of the parents, teachers, adults, and students who worked so hard to make Comet Sensation successful, and thank you to all of the schools who performed and participated in Comet Sensation 2021!