Group State Speech Comes to an End
All Girls Choral Reading "Smile" Moves On to All-State 2021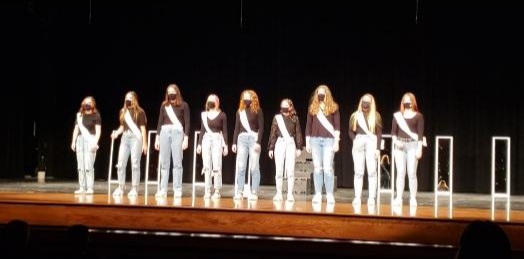 After a long season of many unexpected twists and turns, the speech teams at North Polk have ended their group speech season after holding the state competition in the fine arts hallway at the high school. 
Group state speech this year has thrown many obstacles and trivialities at the students. From the absence of the "normal" competition atmosphere, to the COVID-19 protocol put in place, there were countless things hindering the process of the season. Despite this, the speech students were able to have a successful season. This year saw many groups pass on to the state level, performing in front of three judges instead of one. 
The senior girls ensemble saw this success, as well as major improvement from their performance at districts.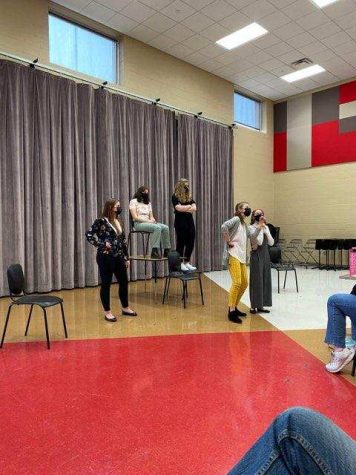 "I think the difference between districts and state was that there was more pressure involved with state," senior, Sydney Weers said. "Districts was kind of like qualifying level, but then it was time to get serious and really hone in for State. State was taken way more seriously and formally." 
The girls in the ensemble had very few practices in between districts and state, but by following their critiques and advice from their district judge, the girls were able to strengthen their performance immensely.
"I feel like we improved for [our performance]. We really took the judge's critiques to heart and did our best to make them work," Weers explained. "I believe those critiques strengthened my performance from districts."
Alongside the usual ensemble, improv, and musical theater, North Polk's speech season saw the performance of a group mime entitled "Cross Roads," performed by juniors, Sydney Mast and Olivia Smith.
"[Our] performance was called "Cross Roads," and it was a visual for everyday struggles that are familiar to the BIPOC (black, indigenous, people of color) community," Smith explained. "It was shown in a split screen format with Sydney and I going through motions of everyday life, but for two different people on opposite sides of the spectrum. I gathered my part as a black woman from my own personal experiences from my life which makes this piece so dear to my heart." 
"When performing a mime, you have to portray a whole story or idea only through your movements and facial expressions," Mast described how she and Smith practiced and performed their mime. "Especially during covid, where half of your face is covered, it makes it even more difficult." 
Though the process of miming takes intense focus and practice, Smith said she was able to catch on relatively quickly. 
"I loved it personally. I cannot memorize lines for the life of me but I still wanted to be involved in speech somehow," she said. "I've danced for about 13 years now and it is kind of like doing a whole dance routine with your body, but more literal. I feel like I easily caught on after a few practices."
The state contest had many successes and celebrations, including that of the freshman improv group, who earned three division I (one) ratings, the highest rating at the state level. 
"I was surprised at [our] rating for improv," freshman Emily Barr expressed. "I know that not a lot of groups got all ones, and we as freshmen completely new to improv got three ones."
For the freshmen, it was certainly an exciting and interesting time at both district and state speech.
"I loved freshman year [group] speech; I've been watching my brothers do speech for years and I was so excited to get to do it this year," Barr expressed. "Even with covid everyone was so nice and supportive, and I just had a lot of fun with my friends and got to meet and hang out with new people."
Alongside the freshman improv group, the ensemble "My Big Fat Greek Divorce" and choral reading "Smile" earned three division I (one) ratings. The girls of "Smile" heard some exciting news on the afternoon of Feb. 17. They had been nominated for All-State.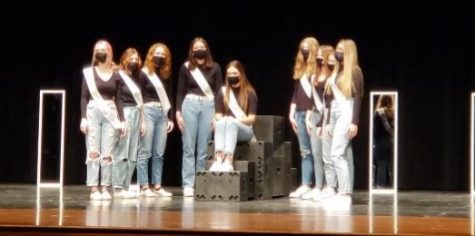 "I was not only proud of myself, but for everyone in my group. We put ourselves out there," senior Asima Pandzic expressed. "Every single one of us had something personal in this piece. It felt like our audience understood how we really felt by nominating us for All-State."
"I wasn't surprised when we made it to All-State," senior Sophie Vernon added. "The performance we did that gave us the nomination was one of the best performances that we have ever had, so I knew that we had a good chance to get nominated."
The "Smile" girls worked extremely hard to earn their nomination. They had mirrors as props, which they carried all over the stage throughout their performance, while maintaining steady vocals and being in-sync with one another.
"One of the most difficult things about putting this performance together was trying to make it sound good, but also have it be visually appealing," Vernon said. "Those are two of the most important aspects of choral reading and getting them to work together is difficult."
"The mirrors were actually not hard to incorporate in our piece," senior Grace Vandekrol explained. "Carrying them was pretty easy, and we all really appreciated the fact that Mrs. Vernon took the time to design and make the mirrors."
"I loved the mirrors because they gave a visual representation of how we as women truly look at ourselves because of the things other people say," Pandzic added. "At times, they were difficult because you could not see directly in front of you. It was your responsibility to make sure you were doing the right movements because you couldn't always watch others in the group."
Now, with State speech coming to an end, and the indefinite circumstances of an All-State event, group speech has come to an end. Later this month, though, the districts for individual speech will take place, which has both the coaches and students ready to take on the individual season.