The Orbit opens up new polls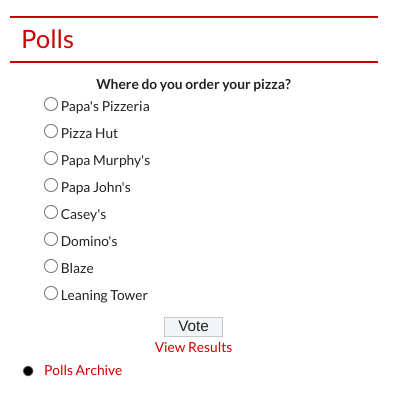 Since starting up the Newspaper and Broadcast classes, The Orbit has a whole new feature available to all who interact with the site. The editors for each of these classes have added polls, with topics varying from simple yes or no questions to finding out which flavor of Gatorade is the best. These polls used to be an experimental process for the Journalism Production class last semester, and used to be much more dormant. 
Two Newspaper editors, Olivia Moody and Alexis Dorsett, talked about what it was like to interact and help build the website.
"I'm really excited to have the opportunity to shape the beginning of the Orbit," Moody said. "We've made many changes for the better already, and I can't wait to see how the site grows in the next few years. "
The Orbit releases polls every Monday and Thursday, with a wide variety of topics that the students can vote on. The editors briefly mentioned what their favorite poll has been so far.
"I liked the Gatorade poll," Dorsett said. "It got a lot of traction from being posted on social media."
Moody agreed with Dorsett on the Gatorade poll. "It was really cool to see how many votes it got; we had record views on the site that day! It was amazing to see the student body go out of their way to answer the poll."
The polls that are displayed on The Orbit are made by the editors. However, the fun and interesting topics come from many sources from inside and outside of the classroom.
"The five Newspaper and Broadcast editors came up with a lot of the poll ideas," Dorsett said. "There are a few where members outside of the Journalism department pitched their ideas. It's nice to have that little interaction with the student body."
Through the use of social media platforms, The Orbit has been able to promote new article releases, showcase sports highlights, as well as getting the student body engaged with voting in the polls. 
"I would say social media has been our best friend while promoting the website and its content," Moody said. "Having students hype up the polls, and interacting with our posts on Instagram and Twitter really helps us showcase our work and gain more traction to The Orbit."
Here are the Journalism Department's social media handles. Follow us at… 
Twitter: @NPCometCommunications
Instagram: @npcometcommunications
Facebook: @North Polk Comet Communications
Word count: 402