Agriculture is in Her Blood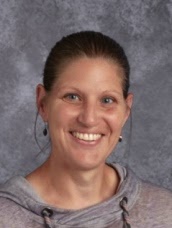 Jessica Hebert is North Polk school's wonderful agriculture teacher and FFA Adviser. FFA stands for Future Farmers of America. FFA is also not just about farming, it is about many things besides that. It can be learning about where food comes from. Hebert said, "I encourage students to take an ag class where you do not have to have an agriculture background." Hebert got her agricultural and teaching degree from Iowa State University. She got into agriculture and teaching from her father. Jim Russ, Hebert's dad, was her high school agriculture teacher. She did not want to take any ag classes in high school because of this, but her dad made her. She always told her father, "I am never going to be a teacher." Well that clearly did not happen, since she has been teaching here at North Polk for eight years.
 Even though teaching was not what she wanted to do originally, she loves her job. North Polk was not her first school that she taught at. Her first teaching job was at West Central Valley, a small rural school in Stuart, Iowa. She says that there was a big difference between teaching at West Central Valley and teaching here at North Polk. The biggest difference was West Central Valley was a very rural school and smaller classes where everyone knew each other. She also taught one year at Red Rockford Marble Rock before she got her job here at North Polk. 
Hebert was more than just a daughter of the school FFA teacher. She was a softball player, basketball player, and volleyball player. She was a varsity athlete in all of those sports and said that sports were some of her favorite memories of high school.
Iowa State University offers teaching observations to educate students who want to become teachers. Hebert is very involved in this, "Mentoring through Iowa State is something fun I enjoy outside of just teaching at North Polk." She always has her name down that she would like to be able to help college students who want to become great future FFA teachers. She actually has a student observing classes right now.
Hebert also enjoys many things besides teaching: "I enjoy going camping with my family." She is a mom of three kiddos. The Hebert family also enjoys going fishing in the summer. 
If Hebert could be anything besides a teacher, "I would like to be a park adviser or Naturalist".